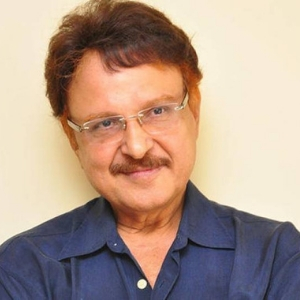 [qodef_section_title title_tag="" title="ABOUT" title_color="#ffffff"]
SARATH BABU Telugu,Tamil, Kannada, Malayalam and Hindi languages lo natinchina, senior actor.Sarath Babu garu puttinadi, Amudalavalasa, Srikakulam District, asalu peru Satyam Babu Dixitulu.Legendary director K.Balachander chetula meedaga Tamil movie lo Terangetram chesi, next Telugu movies lo enter ayina Sarath Babu initial days lo hero ga next villian ga aa taruvatha character actor ga tana cine jeevitam konsagisthunna vilakshana Natudu Sarath Babu Garu.Almost south lo top heros tho screen panchukunna koddi mandi natulalo Sarath Babu Garu okaru.Character yedayina, Character kanipinchali natudu kadu ani cheppali ante Sarath Babu gari peru tappaka top ten lo okati ga untundhi. Manaku unna koddi mandi method artists lo Sarat Babu Garu okaru. Tana performance tho saha natula image ni goppaga elivate cheyagala samardhudu Sarath Babu Garu. K.Viswanath Gari directionlo Kamal Hassan friend ga, movie Sagara sangamam lo Sarath Babu character, oka true friend ela untadu anataniki example. Tana financial condition bad ga unna kuda paristitula karanam ga thagubothu ga marina friend (Kamal Hassan) ki chivari varaku bhujam kachina udaatam ayina character lo Sarath Babu Gari natana marapu ranidi.
[qodef_section_title title_tag="" title="Scene 1″ title_color="#ffffff"]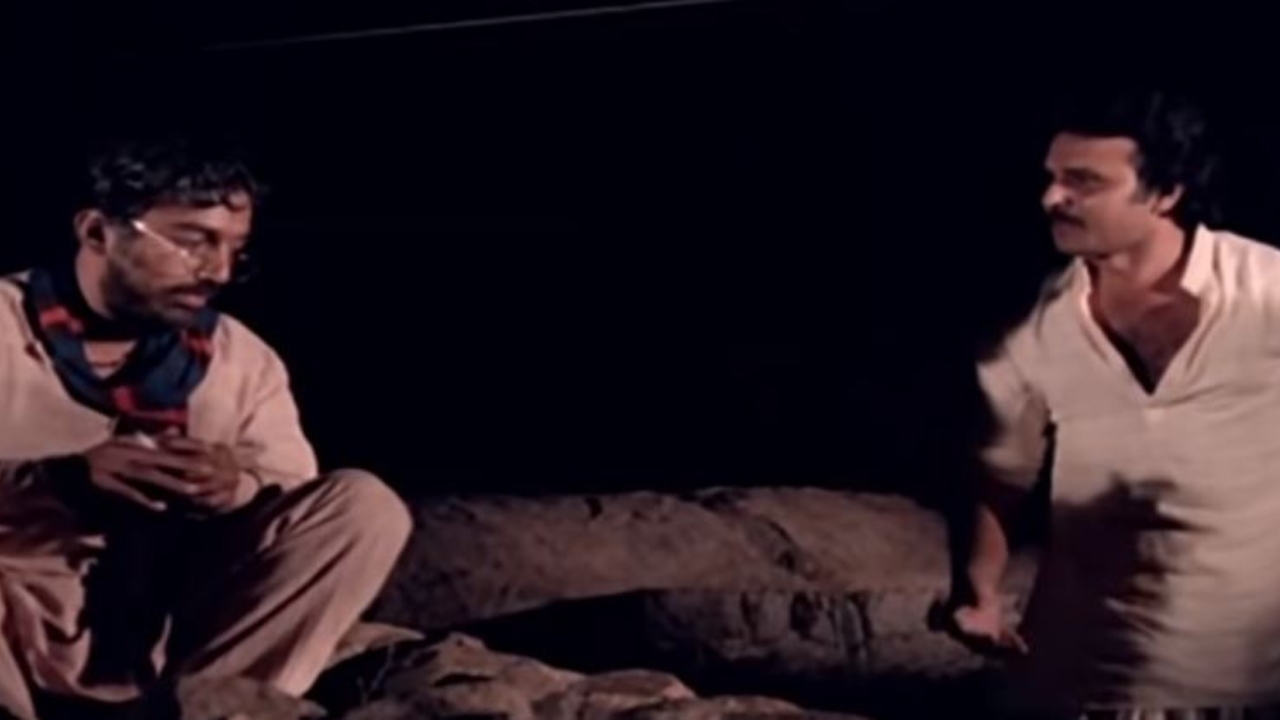 Sagara Sangamam movie lo Hero Balu (Kamal Hassan) Friend Raghu ga chesina character  Sarath Babu career lo ayana chesina one of the best character ani Cheppa vachu.Balu vrasina oka critic review karananga ayna Proofreader job potundi, Balu nu vetukutu vellina Raghu, oka park lo Balu ni chustadu.Full ga mandu kotti  padukunna Balu ni chusi, ni ghana karyam valla unna aadharam poyindi, asalu evadra nuvvu annava, thammudu va, ne valana ippati varaku padina ibbandulu chalu, neeko namaskaram ani kopam ga akkada nundi vella boyina Raghu ni Balu,Raghu rasina kavita chadivi apestadu. Balu ni thidutunna scene lo Raghu nunchi vachina maatalu anni manasu nunchi vachina maatalu kavu ani Sarath Babu gari expression lo ne telisipotundi.Akali ga undi anna Balu ki tana asara icchi teesukoni velle scene lo sarath Babu gari action remarkable. Kamal garu sarath Babu garu poti padi natinchinatlu untundi a scene. Chustunna audience kanta thadi pettinche scene adi. Iddaru mature artists screen pyna pradarsinchina natana prsamsaniyam.
[qodef_section_title title_tag="" title="Scene 2″ title_color="#ffffff"]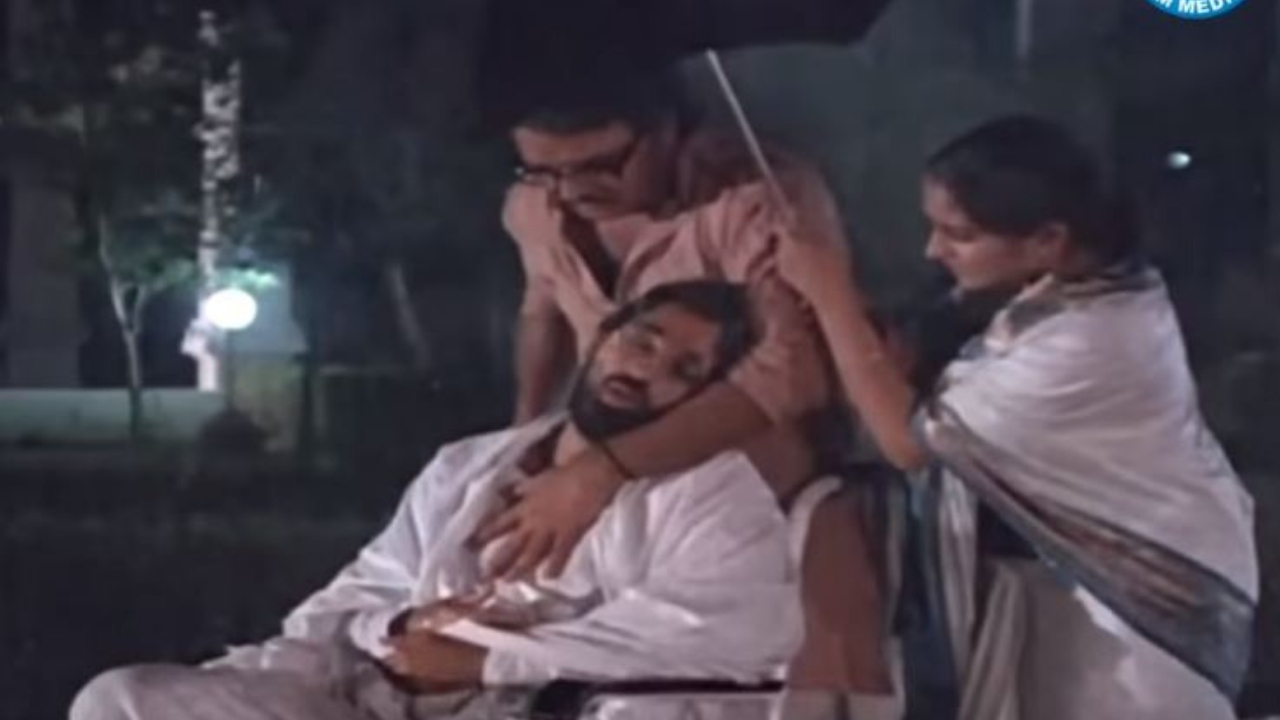 Taguduki banisa ga marina Balu ni divert cheyadam kosam Madhavi(Jayaprada) daughter Sailaja ku classical dance teacher ga Balu ni oppinchi teesukoni velatadu Raghu.Akkada Madhavi ni kalusukunna Balu, Sailaza Madhavi daughter ani Telusukoni, Tagudu stop chesi Sailaza ku Dance nerpe pani lo busy ovutadu, but Madhavi husband chanipoyina vishayam telisina Balu health padu avuthundi,hospital lo ne Sailaza ku Dance nerpinchina Balu, Ame programe chestunna Stage pyna chanipothadu.Chivari varku thoduga unna Raghu chethula lone  thudi swasa vidustadu Balu. Athani body ni wheelchair lo mounanga auditorium bayataku teesukoni vastadu Raghu.Varsham start avuthundhi, Balu ni varsham nunchi kapadatam kosam Athani meedaku vali athanini kapade prayatnam chestadu Raghu, inthalo venake vachchina Madavi valla ku godugu Paduthundi. No dialogues only expressions, audience gundelanu pindi vese scene. Friend ante vadu goppaga unna rojulalo athanitho undatam kadu, athani loni minus points ni sahitam bare cheya kalagatame friendship anenduku Raghu character oka example. Anthati baruvaina character ni mosina mana Sarath Babu gari ki vandanam Abhivandanam.
[qodef_section_title title_tag="" title="Analysis " title_color="#ffffff"]
Mugguru snehitula jeevana yatra,aa yatra lo vari tyagala sangamam e Sagara Sangamam.Balu oka dance dreamer athani loni prathibha nu gurthinchina friend Raghu athani ki anda ga nilustadu.Balu prathibha nu gurthinchina Madhavi athanini goppa dancer ga cheyali ani pryatnam chestundhi.Manam okati taliste vidhi enkokati talustundi annatluga Madhavi Balu ki dooram kavadam, Balu thagudu ki banisa ga mari dance ki dooram ayi nirardhkam ayena jeevnam lo ki nettiveayabadatadu. Atuvanti  condition lo kuda athani cheyi vadalani friend Raghu.Kalakarula sunnitha manasku prathinidhiga Balu,Entati kastam, nastam ayena sneham mundu baladhur ane friend ga Raghu.Tana pryatnam chivari varaku kona saginchina well wisher ga Madhavi. Ee three characters celluloid meeda manishi jeevitanni, sneham loni responsibility ni avishkarimpa chesayi. Sneham ante saradaga kalasi tiragadam kadu, kalasi jeevitanni panchukovadam ani teleya chestaru.
[qodef_section_title title_tag="" title="Through the Years" title_color="#ffffff"]

Sarath Babu's dad was a hotelier, he wanted Sarath Babu to handle his business, but Sarath Babu was aiming to become a police officer,but unfortunately he developed short sight and dreams were crashed as clearsight is the prerequisite to join the police department.

He has received numerous awards, including eight Nandi Awards from the government of Andhra Pradesh for his roles in telugu movies

He also has acted in an English movie- "Walking Dreams".

He acted in more than 200 movies in four south Indian languages along with Hindi.