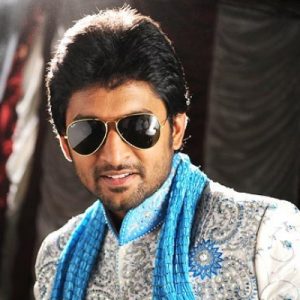 [qodef_section_title title_tag="" title="ABOUT" title_color="#ffffff"]
Natural star NANI asalu peru Ghanta Naveen Babu, cinema ku sambhandham leni oka sadharana kutumbam ki chendhina Hydarabaadi kurradu. Assistant director ga cine jeevitham praranbhinchi hero ga edhigina prathibhavanthudu. Navatharam natula lo raasi, vassi rendinti ni balance chestu natural star ga gurthimpu thechukuunnadu. G.Ashok direction lo 2011 lo vachina 'Pilla Zamindar' movie Nani ki manchi break ichina movie. Praveen Jayarama Raju short form lo P.J. character, natudiga Nani ki manchi gurthimpu thechindi. P.J ga Nani natana and comedy timing tho audience manasullo nilichi poyadu. Oka pedda zamindari ki varasudiga, ahankariga, vyasanaparudiga unna P.J. thana thatha gari veelunama karananga, Siripuram ane chinna town lo, Mangamma college lo degree cheyadam kosam ayistanga vasthadu, principal Rajanna (Rao Ramesh) inka tana thoti students dwara jeevitam viluvalanu thelusukoni, parivarthana chendatam, Tana friend Kanna Babu (Avasarala Srinivas) pranalu kapadatam kosam tana vela kotla property ni thruna pryam ga vadulukone sthayi ki edugatadu P.J. Pedarikam ante dabbu lekapovatam kadu, tana vijayam lo bhujam tattenduku, apajayam lo nenu unnanu ani cheyi andinche varu leka povadam ane jeevitha satyam telusukuni, Thana property poyina tana kosam nalugurini sampadinchukuntadu P.J.Allari Chillari ga modalaina chracter chala gambheeramga mari pothundi, aa parinamanni thana natana dwara goppaga avishkarinchadu Nani.
[qodef_section_title title_tag="" title="Scene 1″ title_color="#ffffff"]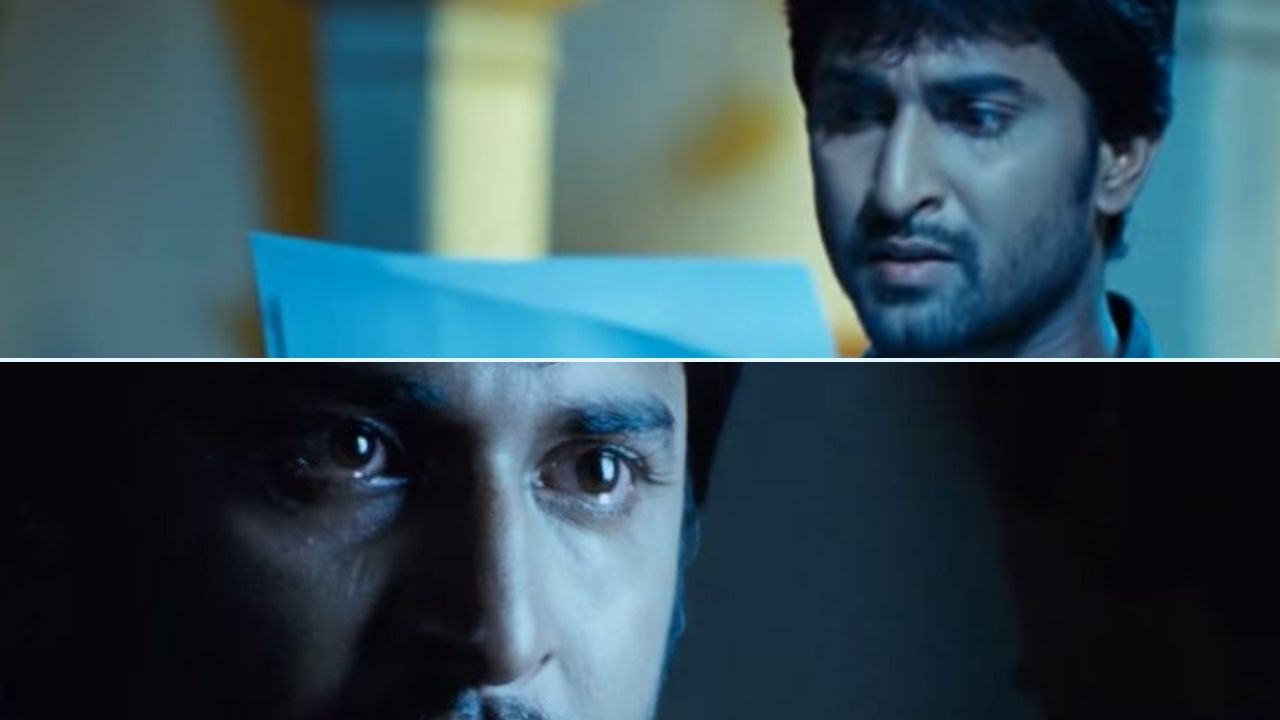 Tana thatha gari veelunama lo condition prakaram P.J. college election lo poti chesi gelavali, patha habits antha easy ga maravu anetanduku example ga, thagubothu science lecturer suggestion tho, election lo gelavadam kosam P.J. students andari ki Mandhu party icchi, recording dance arrange chesthadu. Matter telisina Principal Rajanna, P.J. ki badhuluga athani room mates ni punish chesthadu. Next day nunchi room mates behaviour lo vachina marpu nu observe chesina P.J. chala guilty feel ayyi college nundi velli povadaniki prepare avuthadu. Vellabothunna athani chethilo athani thatha garu vrasina letter pedathadu Rajanna. Letter lo tanu dhanam valana vachina aham tho, chuttu vunna vari ki dooram ga edhaga kudadu, jeevitham viluvalu, dabbu prdhanyatha telusukovali ane intention tho conditions pettane gani thanani baadha pettadam kosam kadu ani vrasi untundi. Adi Chadivana P.J. kanneru muneeru ayi, thana behaviour ki thaane siggu padathadu. ee scene lo Nani action lo entho depth and maturity kanipistundi. Nippullo karigi abharanam ga mare bangaram laga, thananu thanu marchukone kramam lo thanu padey sangharshana Nani action ki parakasta. Guilty ga undi, Odipothanemo ani bhayam ga undi Rajanna antadu P.J. gelisthe  yemundi ra after all ninnu prapanchaniki parichayam chesthundi, okka sari odipoyi chudu prapancham ante yemito neeku parichayam authundhi ani dhairyam cheputadu Rajanna.
[qodef_section_title title_tag="" title="Scene 2″ title_color="#ffffff"]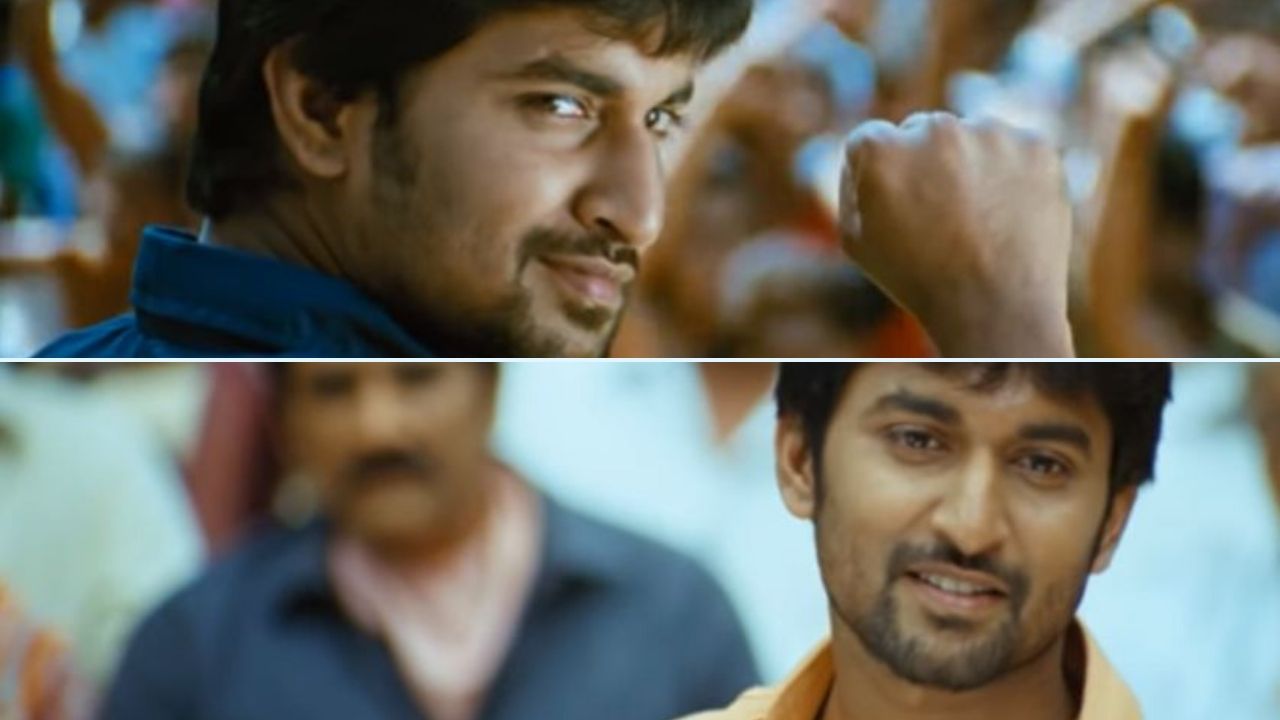 Friends salaha tho PJSF ani oka organisation start chesi thana meeda padina black spot nu tholaginchukone prayatnam lo konni manchi panulu chesi, students tho paatu public support tho election lo gelusthadu P.J. Honest ga chadivi exams kuda pass avuthadu. Ammiraju, P.J. cheat chesi pass ayyadu idantha thana thatha gari property pondhataniki aadina natakam antu vimarsistadu, but, P.J thana pranam kapadatam kosam, treatment ki avsaram ayina 25 lakhs kosam tana property ni vadulukunna vishayam andari mundu cheputhadu Kanna Babu.
Thana vadda migilina koddipaati amount nu kooda college kosam ichchi vesi velipotunna P.J. ni chusi dabbu lekunda ela bratukutavu antu adugutondi Sindhu. Nenu ikkadiki bhayapaduthu vacha naku aasthi dakkuthondo ledo ani, kani dabbu leka poyina bratakagala dhairyam ichchindi meere. Ekkada naku lessons cheppindi masters matrame kaaduh, jeevitam, kaalam  kudaa Ikkada jeevitam kalam viluva teliya chesindi, Ikkada gadipina rendu yella kalam, jeevitham ante emito teliya chesindi antu Climax scene lo Nani chesina action movie ke highlight.  Nani lo unna natudini full length lo bayataku techina movie idi, dini taruvatha Nani career graph ekkdako edigi poyindi. Nani ki unna voice, timing and  Modulation athani balam, aaradugula andagadu kaka poyina, aaru angulala lothu ga gundello dige  kathi lanti voice tho, tana expressions tho edigina natudu Nani.
[qodef_section_title title_tag="" title="Analysis " title_color="#ffffff"]
Moola kadha nu south korean movie nunchi teesukunna, Director G.Ashok chala home work chesi comedy, emotion and sentimental movie ga dinini audience lo ki teesukoni vellina teeru prasamsaniyam. Chandrashekar Gundimeda kalam nunchi jaluvarina sambhashanalu, manava viluvalu manasuku hatthukone vidham ga undatam cinemaku sagam balam.. Telugu Lecturer Udhandam(M.S.Narayana) telugu goppatanam gurinchi cheputu Telugu manam amma tho matlade amma bhasha, debba tagilithe Amma anandam manesi, shit antu asudham notlo vesukone meeku em thelusu ra Telugu bhasha goppatanam antaru. inka oka sandarbham lo Devudu vastuvulanu vadukovataniki, manusulanu preminchadaniki srushtiste, manam vasthuvulanu  preminchi manushulanu vaadukuntannamu ani oka character tho cheppinchadam. Telugu bhasha priyulaku ee  chitram vindu bhojanam lantidi. Ardhvantham ayina dialogues tho recent days lo vachina ee cinema eppatiki marchipolemu. Dhanavanthudu ayina Praveen Jayarama Raju parivarthana chendi gunavanthudu ga mare kramam lo yenno characters daniki dohadah padatayee. Overall ga annam, avakaya, pappu, nethi tho mudda kalipi thinnaanta kammati achcha telugu cinema ani cheppa vachu.
[qodef_section_title title_tag="" title="Through the Years" title_color="#ffffff"]

He was an Assistant director, worked for Srinu Vaitla and Bapu, before working as RJ for world space satellite in Hyderabad.Nani made his film debut in 2008 with the hit romantic comedy Ashta Chamma

In 2013, Nani produced his first film, D for Dopidi, which became a commercial success at the box office.His second production venture, Awe, was released in 2018.

In 2018, Nani hosted Bigg Boss Telugu 2, the second season of the popular reality T.V. show Bigg Boss in Telugu.He won the State Nandi Award for best actor for Yeto Vellipoyindi Manasu movie.