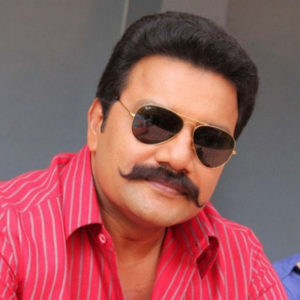 [qodef_section_title title_tag="" title="ABOUT" title_color="#ffffff"]
Sai Kumar is a multi-talented and multilinguistic actor in south India. He started his acting career as a child artist and dubbing artist, he became popular with his baritone voice and modulation. He is an actor who acted with four generations of heroes of Telugu Film Industry. Sai Kumar born as Pudipeddi Sai Kumara Sharma, 27 July 1960. His father P.J.Sarma was also an actor and dubbing artist and his mother Krishna Jyothi was a Kannada actress. He debuted as an actor through Bapu's film SNEHAM 1977. His son Aadi also started his acting career as a hero on Telugu silver screen.
[qodef_section_title title_tag="" title="Character " title_color="#ffffff"]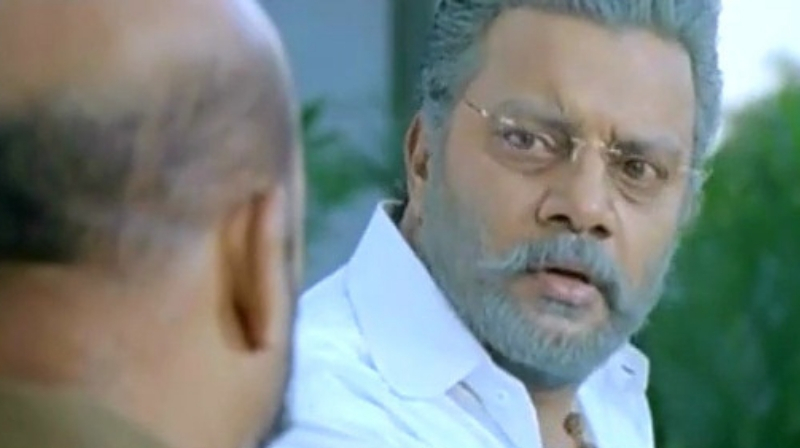 Ketti Lokanatham Naidu after the death of his dear friend Keshava takes over the reins from dying old man Galla Dasaradha Rama Naidu (Balaiah) father of Keshava who is a local politician. On his deathbed, Rama Naidu requests Loki to marry his widowed daughter-in-law Savitri. Subtle gestures and expressions of Sai Kumar as Lokanatham made the character very real and true to the story. Mitra (Sarvanand) is a devoted and loving son to Loki, he wants to see Mitra as his heir because of his rationals sense, but Chinna (Sundeep Kishan) is a hot-head. Chinna (Loki's son) envy Mitra (Loki's Step Son) as he receives less attention over Mitra from his father also he is discouraged by his father from getting into politics. Chinna gets upset on knowing the fact that Mitra got the new youth President position in his father's party. Jealous Chinna gets into a rage and rapes the daughter of Basha one of his father's age-old friend and kills her in a road accident. Mitra decides to punish Chinna but he confronts with his father, Loki will try to save Chinna and reveal his ugly side for the first time. A sudden transformation of the character has been marvelously handled with his performance.
Loki sacrifices his political goodwill to protect Chinna, Mitra leaves the house and kills Chinna. Over a series of events, Loki orders his goons to kill Mitra and Basha. Basha saves Mitra and reveals the secret that his biological father was killed by Loki to become the leader. Mitra astonished by the truth meets Loki with all his sadness, Mitra considers Loki as the only father he ever had, he falls on to his feet and questions him, for which Loki has no answer. He quotes a few lines to justify his actions "if you go beyond the Puranas there are no villains nor heroes in this world, there are only ordinary people committing sins to fulfill their goals". He portrayed his role so well that it will be remembered forever as one of his best performances. He was able to show two different shades in a single character so well that audience fell in love with Lokanatham character.
[qodef_section_title title_tag="" title="Through the Years" title_color="#ffffff"]

He lent his voice for Suman and Rajasekhar for most of their films.

He rose to the fame as a successful star in the year 1996 with his Kannada movie POLICE STORY, which also got dubbed into Telugu and Tamil.

He won Nandi Award for Best Villain for SAMANYUDU movie in 2006,  and Nandi Award for Best Supporting Actor for PRASTHANAM movie in 2010. He also received three Filmfare Awards for Best Supporting Actor.