10. SP PARASURAM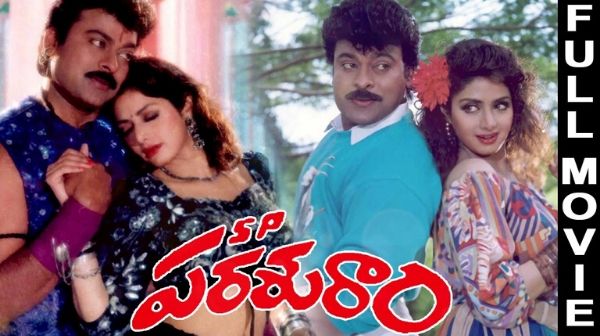 SP Parasuram being Sridevi's last movie in Telugu, she has given an exceptional performance as a petty thief and as almost victim of blue film gang and then as a blind woman who loses her sight during an attack. Though the film did not fare well at box-office, Sridevi stood out to be a special attraction in the movie. Starting as a funny girl, her character evolves through the movie and she plays a very mature role as a protective role of blind mother to her baby which she has executed very well.
09. AKHARI PORATAM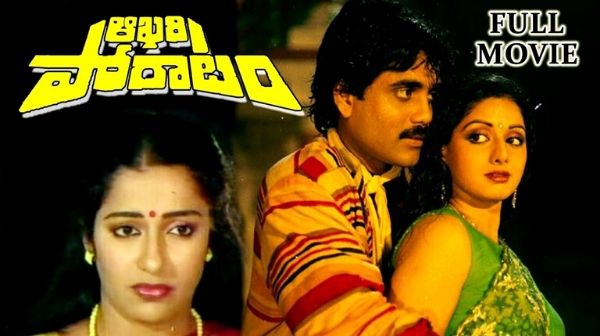 Sridevi adds another feather to her cap of versatility with Akhari Poratam movie, in which she plays the role of a CBI officer who is on a mission to expose the illegal activities of a notorious criminal. During her mission she falls in love with Stage actor Vihari(Nagarjuna) but later realise that he loves Suhasini and so she sacrifices her love for him. But in the end while fighting Amrish Puri the criminal, she loses her life with a satisfaction that Nagarjuna's love was successful. Sridevi has done a action packed role in this movie and she was perfect as CBI officer Pravallika and her beauty has served as an addition to the character she played.
08. GOVINDHA GOVINDHA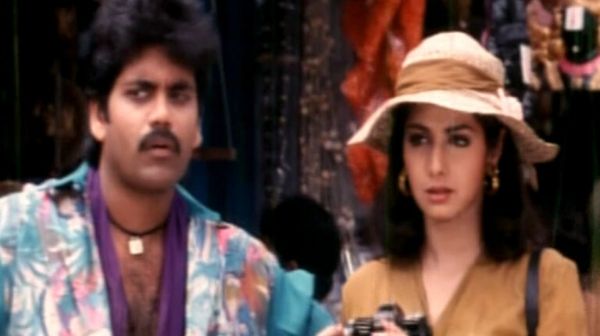 As a NRI from Bangkok who comes to her hometown to take her grandmother with her, Sridevi looks very much lively and her innocence as foreign tourist is brilliantly done. She looks amazingly beautiful in songs and the lyrics of 'Amma Brahma Devudo' song describing her is very apt for her beauty. Her screen presence and chemistry with Nagarjuna is worth a mention. Ram Gopal Varma who is a super fan of Sridevi has managed to show her in the most beautiful and gracious way possible that you would instantly fall in love with her upon first glance.
07. PREMABISHEKAM

Premabhishekam is the movie about sacrificing love for the well-being of lover. ANR being terminally-ill, wants a happy life for his love Sridevi and sets-up her marriage with his friend without her knowledge. In this movie, Sri Devi's emotional struggle from initially hating ANR to repenting her actions and loving him fiercely and then from being heartbroken to becoming furious when she comes to know of ANR's relationship with Jayasudha and then to deep pain when she knows the truth about ANR's illness and her marriage has been portrayed by her very convincingly. Through this movie, she takes her viewers in the same emotional journey along with her.
06. KSHANA KSHANAM

If beauty, bubbliness and innocence personify together, then it would be Sridevi from Kshana Kshanam. Though the movie itself has a great plot and progresses in an amazing pace, it is Sridevi who always attracts the viewer's and with her beauty she doesn't let the audience take off their eyes from her as long as she is visible on the screen. This movie would not have seen such a huge success if not for Sridevi. With her beauty and grace, she has given life to the role of Satya and made it one of her most memorable characters.
05. AAKALI RAJYAM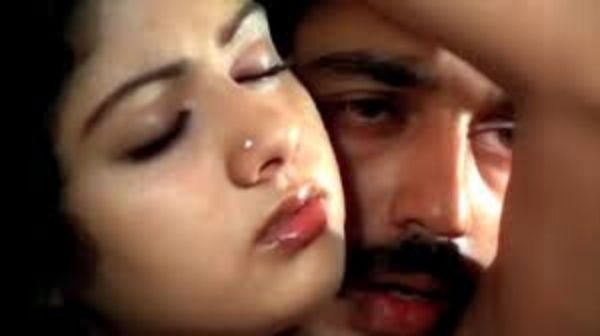 In Aakali Rajyam movie, Sridevi plays the role of a struggling stage actress whose father has lost all his money on betting. Unlike her other movies, this movie specifically deals with the social issues of unemployment, poverty and struggles of youth to earn a living. Sridevi depicts the conflicts she has to face between saving her job, maintaining her modesty and choosing a right person as her life partner in a very realistic manner. Her presentation of dialogues and her charm cannot go unnoticed and have a huge impact on the movie's success.
04. PADAHARELLA VAYASU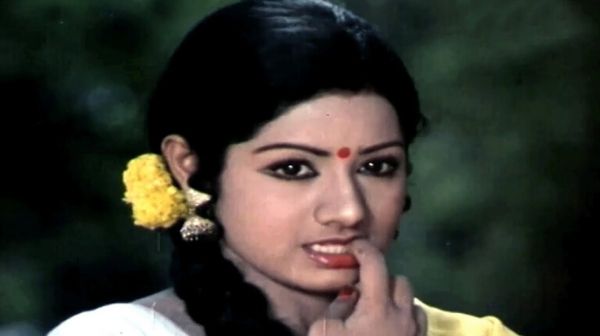 In Padaharella Vayasu, Sridevi plays the role of Malli – a strong-willed village girl who is betrayed by a city guy due to her ignorance and is determined to set her life in right path again. Her transition from naïve and vulnerable teenager who dreams of meeting her Mr.Perfect to a uncompromising, head-strong woman who becomes a backbone of strength to an isolated man(Chandra Mohan) from her village is expected with poiser. This shows her full-fledged devotion to the role and the effort she has put in to it.
03. DEVATHA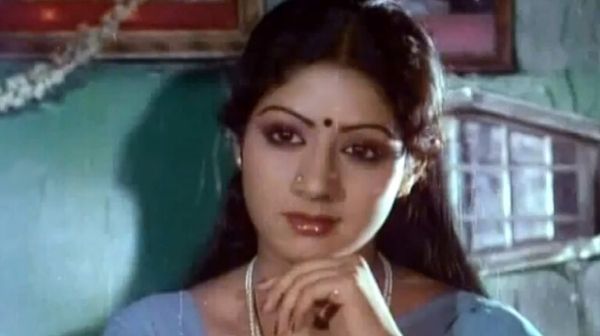 This movie established Sridevi's career more strongly in Telugu Film industry. With her tremendous screen presence, good looks, glamour, natural dialogue delivery and wonderful performance she contributed her part in the movie's success. Sridevi in this movie plays role of a sacrificing younger sister of Jayaprada who as a gratitude for her sister's motherly care, Sridevi sacrifices her love, marries a goon and then dies wishing a happy life for her sister. Through the movie Devata, Sridevi takes her viewers on an emotional roller-coaster ride and it could be considered as one of the Sridevi's finest performances.
02. VASANTHA KOKILA
For any actress who is known for her beauty, to play de-glam role would be very difficult but not for Sridevi. In Vasantha Kokila, Sridevi can be seen as a woman who suffers from amnesia after meeting with an accident due to which she mentally regresses to state of a child. Simply put, she is a child psychologically though being a young woman. She has enacted this role with such a perfection that never in any scene would viewers feel that she is actually acting. She made it feel so real that it is hard to accept the fact that she did not suffer from amnesia. Her performance in this movie was competing with Kamal's who is considered to be one of the finest actor.
01. JAGADEKA VEERUDU ATILOKA SUNDARI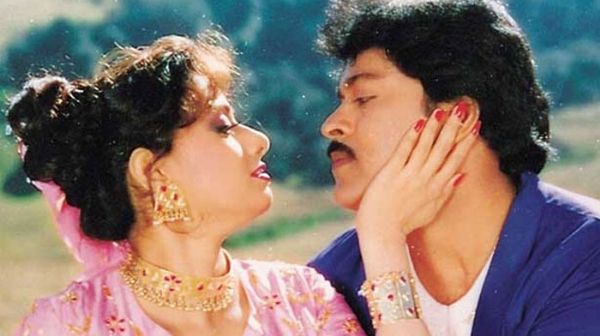 Sridevi as Indraja is the most beautiful thing you would have seen and would ever see. Her role in this movie is irreplaceable and the most memorable one. Words fall short when we start to describe Sridevi's looks and acting in this movie. If Chiranjeevi has given a outstanding performance as Jagadeka Veerudu, Sridevi has done a perfect justification to her role as Atiloka Sundari. The cuteness in the way she calls 'Raju' still rings in our ears while her dignity as Devakanya when fighting the evil force does not cease to replay in our mind.