[qodef_section_title title_tag="" pattern_skin="light" title="Movie Info " title_color="#ffffff"]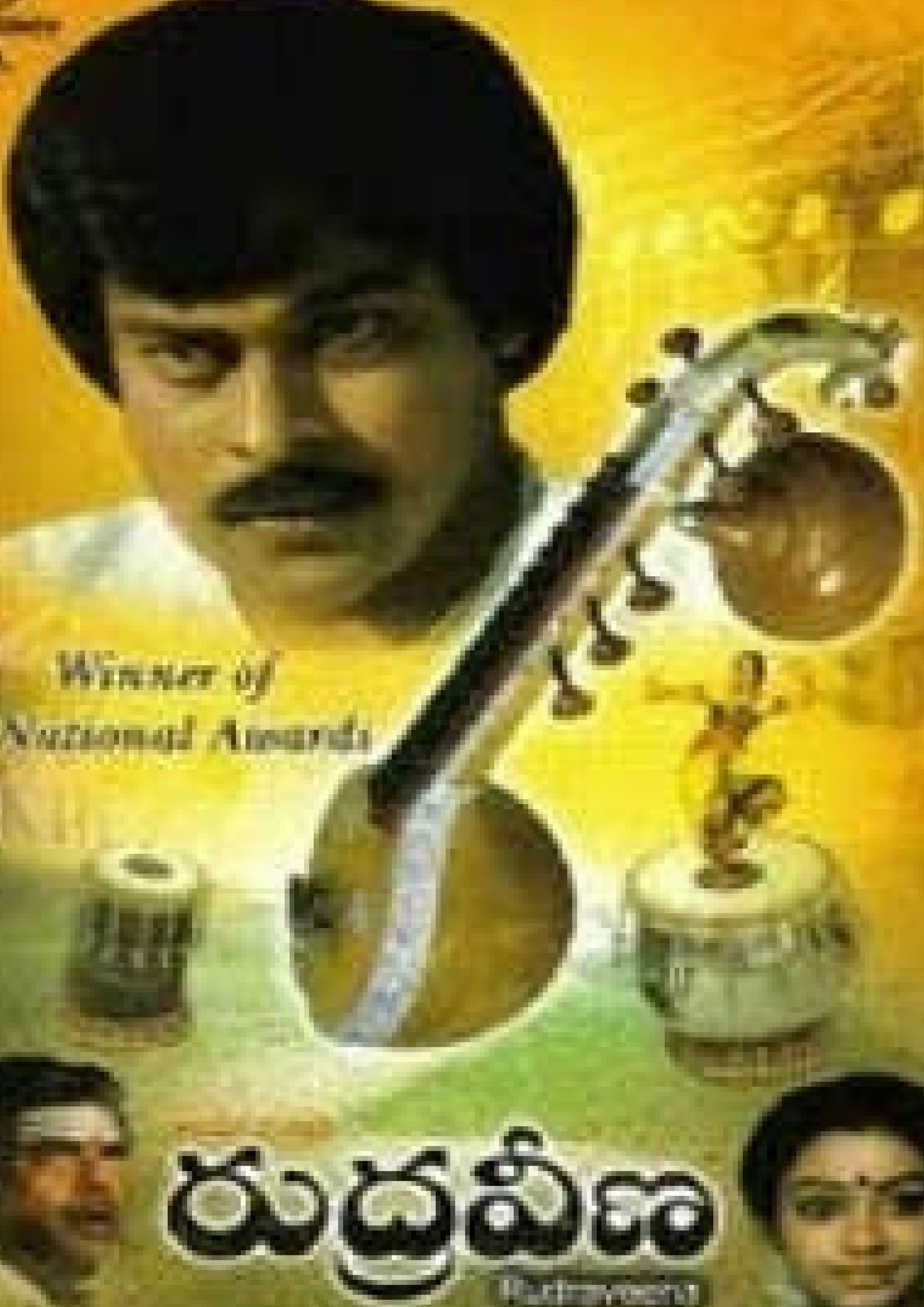 Rudraveena is a movie, with a message about national integration and rural development, the concept was dramatized between father and son, written and directed by legendary director K.BALACHANDER, Produced by K.Nagendra Babu on his own production house by name Anjana Productions. Rudraveena is considered as one of the cult films in the career of K.balachander. After considering many options, Tamil actor Gemini Ganesan was finalized to play Chiranjeevi"s father as "BILAHARI" Ganapathi Sastry. Shobana was chosen as the female lead, her experience as a dancer helped the film. Rudraveena marked the Telugu film debut of Ramesh Aravind, another of Balachander 's proteges. Ilayaraja was signed to compose the film's soundtrack and background score.
[qodef_dropcaps type="square" color="" background_color=""]R[/qodef_dropcaps]udraveena focuses on the ideological conflicts between Bilahari Ganapathi Sastry, a reputed Carnatic musician, and his younger son Suryanarayana Sastry. Sastry's discrimination towards the people belonging to lower castes is criticised by his son, Suryam, who believes in society's welfare and walks out for good later. The events that led to the change in Sastry's views is the remaining part of the story. At the end Suryam gains National recognition for his work and the Prime Minister announces a felicitation at his village, villagers with all their repentance they will arrange the marriage of Suryam and Lalitha. Initially reluctant, Sastry arrives shortly after and introduces himself proudly as Suryam"s father instead of as a prominent Carnatic musician becomes a landmark scene of the movie which leaves the audience speechless.  
[qodef_section_title title_tag="" title="Best Scene 1″ title_color="#ffffff"]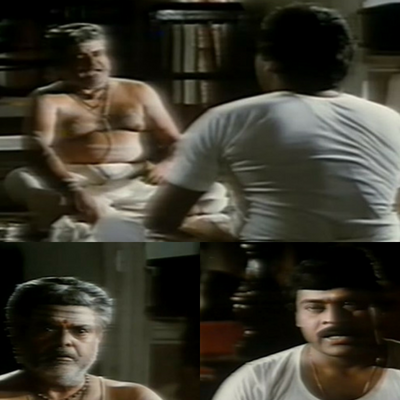 The pathetic voice of a lady beggar who was urging for a fist of food at their doorstep reaches Suryam while practicing with Sastry,he stops singing, furious Sastry will warn him to be deaf to the worldly things. A musician should practice with body, mind and sole as if it is a prayer, these words will turn unpalatable to Suryam who is a humanitarian. He tries to convince Sastry but he is reluctant and starts doubting Suryam's integrity towards music and curses him that he will never become a musician like him. This will be the first incident which leads to a misunderstanding between Sastry and Suryam. Chiranjeevi"s expression and voice reveal how deeply he was wounded by Sastry.
[qodef_section_title title_tag="" title="Best Scene 2″ title_color="#ffffff"]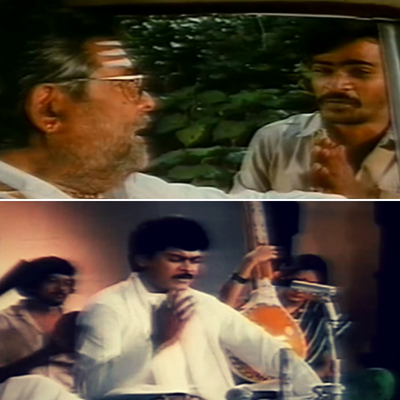 The second incident which deepens  the distance is, on the way to another concert, Sastry refuses to help an injured lineman from the Electrical department who succumbed  deadly which will disturb him, In the continuation of the concert, the incident will haunt Suryam, Which will reflect in his performance, disturbed  Suryam emphasizes through his song that society's welfare is more important than worshipping music The way in which Chiranjeevi performed the role of a wounded singer got an upload among the audience.
[qodef_section_title title_tag="" title="Best Scene 3″ title_color="#ffffff"]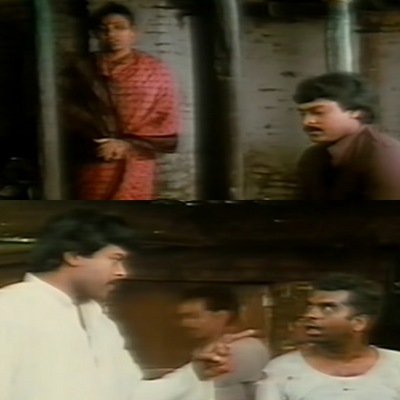 Having come to know the death of lineman Suryam confronts Sastry about this and he will try to make him responsible and leaves the house for good cause after an argument. Later Suryam meets Lineman's widow and learns that the government has denied him compensation as he was drunk during working hours. He also meets the family of another drunkard one of the survivors of the fire accident. Their situation leaves Suryam disturbed as mother and daughter exchange single saree they have to come and talk to Chiranjeevi, and then he vows to abolish liquor which is the root cause of their poverty and problems. Suryam and Lalitha begin their attempts to make the working class men abandon liquor consumption. Although initially successful, backfires on him, which leads Suryam to take a decision to remain a bachelor in his lifetime
[qodef_section_title title_tag="" title="Best Performers" title_color="#ffffff"]